Centro Vista has been for more than 30 years a reference point in the field of Ophthalmology. Our strengths are basically tow, namely:
1. UpdateWe promote an unceasing renewal both in cultural and technological terms. In fact, we decided from the very beginning of our business to invest as much as possible in equipment and updating. We finally managed to reverse the course of those patients who were forced to look for all this far away from our beautiful Island.
2. ExperienceHowever, equipment without adequate experience is in fact of no use. Our clinical and surgical cases, relying on our extensive experience, amount to date to more than 55,000 operations performed in recent years and to an even greater number of clinical assessments. In the light of the foregoing, it seems unlikely that there can be just a single case that we have not already observed and dealt with. And we are growing day by day…
Thanks to its highly specialized team, Centro Vista combines these two key aspects, which are fundamental in the field of medicine, showing our attention to the most precious thing you entrust to us: your eyes..
Contact us to schedule an appointment at our Centre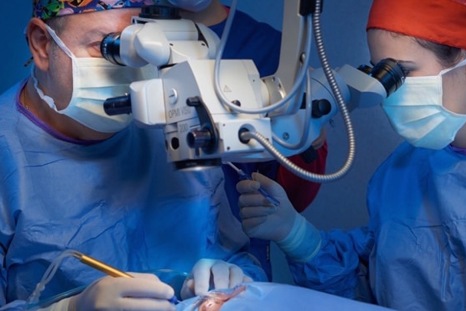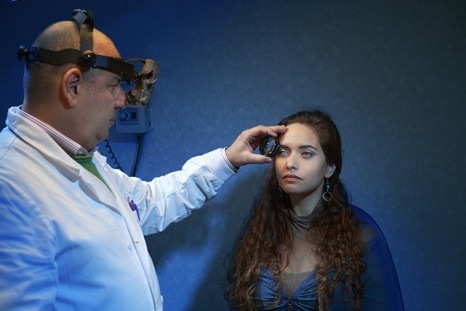 ---
Equipe
If it is true that equipment and case studies are very important, it is also true that the team is equally important. And our team is competent and numerous: 14 specialist ophthalmologists, one of whom is also a specialist in forensics, 2 anesthesiologists, 2 qualified orthoptists, 2 professional nurses, a general manager, 6 secretarial operators, a team leader, a responsible for the toll-free number, 2 administrative staff, 1 maintenance technician and logistics manager make up our team. Let us dwell on our ophthalmologists: we are organized so that all your needs have their doctor of reference: Cataract, Corneal transplants, Glaucoma, Retina, Lacrimale apparatus, eyelid aesthetics … everything to offer you ever more precise and specialized skills.
Fondatore, Direzione, Personale Medico
Dott. Sergio M. Solarino
Surgeon specialist in ophthalmology and forensic medicine. He is the founder of the Vista Center, he has the role of Health Director and Strategic Direction of the Vista Center. If you want to see a more extensive professional profile on Linkedin click on this link.
Donatella Pisano
General manager
Paola Pisano
CEO
Dott.ssa Paola Baire
Surgeon specialist in Ophthalmology
Dott. Giulio Camerada
Surgeon specialist in Ophthalmology
Dott.ssa Camilla Fosci
Surgeon specialist in Ophthalmology
Dott. Giampaolo Moreno Fosci
Surgeon specialist in Ophthalmology
Dott.ssa Manuela Lepuri
Surgeon specialist in Ophthalmology
Dott. Francesco Meloni
Surgeon specialist in Ophthalmology
Dott.ssa Lucia Orrù
Surgeon specialist in Ophthalmology
Dott. Riccardo Saldì
Surgeon specialist in Ophthalmology
Dott.ssa Valeria Serra
Surgeon specialist in Ophthalmology
Dott.ssa Roberta Siotto Pintor
Surgeon specialist in Ophthalmology
Dott.ssa Maria Antonietta Stocchino
Surgeon specialist in Ophthalmology
Dott. Yasir Titi
Surgeon specialist in Ophthalmology
Specialisti in anestesia e rianimazione
Dott. Cristiano Deiana
Specialist in anesthesia and resuscitation
Dott. Salvatore Farina
Specialist in anesthesia and resuscitation
Dott. Marco Lai
Specialist in anesthesia and resuscitation
Dott.ssa Laura Mocci
Orthoptist
Dott.ssa Maria Bonaria Mura
Orthoptist
Dott.ssa Roberta Schirru
Orthoptist
Damiano Dessalvi
OSS
Maria Teresa Leone
Professional nurse
Ilenia Pinna
Professional nurse
Agnese Lai
Employee
Silvia Saba
Team Leader – URP manager
Maria Rita Arba
Secretary
Chiara Sedda
Secretary
Maria Cristina Floris
Linea Veloce – Linea Diretta
Federica Farina
Secretary
Francesca Tomasi
Secretary
Gianluigi Loru
Management secretary
Pierluigi Pisano
Technical Department Manager
Luca Milesi
Technical department